Testimonials
What the expatriates say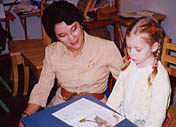 Liv Carlssorn, age 3 at work

Erika Carlssorn, Swede
"When we arrived in Malaysia, I didn't realize that my daughter would be expected to be fluent in English to enroll at the International School. On the recommendation of a friend I sent her to The Victoria Readers.

I was amazed that after only a few lessons, Liv was able to not only read but also speak English as well. I later sent my younger daughter, age 3.

We are really pleased with their progress. At a recent assessment test back home in Sweden, Liv was found to be a year ahead of her age group level.

I would readily recommend The Victoria Readers to any expatriate whose child wishes to learn English. I would say it is of an international standard".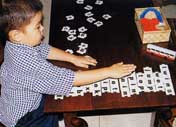 Anne Vitry, French
"I peeped into his room one night upon hearing some unfamiliar sounds and was pleasantly surprised to see Charles trying to read on his own after a couple of lessons at the Centre".
What the parents say
Monica, mother of Aleesha 3 years old from Mumbai.
I have seen all my 5 nephew and nieces growing up with the Victoria Reader class. What impress me the most is, the systematic approach it has to reading. I have come across many different products which claim to get your child to read, but there is nothing like TVR. VR kit is unique in sense that, it lays the foundation very strongly and I do sincerely believe the kids are ahead of the peers at least by a year. Wish we had these centers in India.

Father: Chuck Chee Meng,
Proprietor, Motorbike Shop, Bandar Baru, Ampang, Kuala Lumpur
"My daughter, Chuck Winnie, at the age of four, cannot read or comprehend the English Language, as none of my family speaks English.

Thanks to The Victoria Readers' Programme, she can now read story books without guidance and speak English fluently. Her kindergarten teacher says that she can construct sentences and even take down dictation".

Mother: Puan Shafura bt Mastapa,
Housewife, Taman Pertama, Cheras, Kuala Lumpur
"We started our son Adrian bin Azlan Goh at the age of three. Now at five, he can read English with proper pronunciation and writes pretty well too".

Mother: Mrs K.H.Ng,
Insurance Agent, Bandar Baru, Ampang, Kuala Lumpur
"Ming Yang started at the age of four. He can now read sections of the newspaper".

Father: Mr James Kok Siok Teik,
Architect, Bangsar, Kuala Lumpur
"I was so amazed and proud that Jasmine could read at four".

Mother: Dr Devi,
Sri Damansara
"Thanks to The Victoria Readers, my son Shangar (5 years) is now able to read fluently and independently. My son said, Three cheers to Victoria Readers."

Mother: Mrs. Peter Long,
Chartered Secretary, Port Dickson
"Sending Jonathan (5 years) to a Victoria Readers' Centre is the best decision I have made. It has opened up a whole new world of books to him. Now he is an avid reader".
What the students say

Aida Ismail
"I learned to read at 6 and I dare say the headstart given to me by The Victoria Readers had made me grow into a very confident person. Next to my teeth, being able to speak well is my next best asset".

LLB (Honours) U.K., University of Wales, College of Cardiff and Diploma in Investment Analysis from Royal Melbourne Institute of Technology. Currently working as a Compliance and Invetment Executive in Dexia Asset Management ( Subsidiary of Banque Internationale du Luxembourg)

David Loong
"The foundation in the English Language acquired at The Victoria Readers has allowed me to excel in many other areas as well. Good communication skills are the basis for a good future and The Victoria Readers has given me the headstart".

B. Tech(Chemical Technology) 1st Class Honours, Massey University N.Z. in 1999. Accepted to do Ph D at UMIST (University of Manchester Institute of Science & Technology, U.K). Currently working at Industrial Research Ltd. New Zealand (Biopharmaceutical Division) doing Chemistry Research.

Azharizan bin Ahmad Ghiti
"A strong foundation in English is essential for any degree you want to pursue and it starts with reading".

B. Sc (Mechanical Engineering) University of Missouri - Rolla. Graduated 12 May 2000. Currently working in Juara Consultant.

Lynn Y. Hoh
"The basic skills you learn from The Victoria Readers will provide excellent grounding to help you tackle the obstacles that you will encounter in your journey to master the English language".

Bachelor of Accounting, Monash University, Clayton Campus Melbourne Australia, 1996. Obtained Chartered Accountancy qualifications in January 2000. Currently working as a Senior Consultant in the Corporate and International Tax Division of Arthur Anderson in Sydney.

Ng Yee Wei
"Once the foundation for English was laid, I was able to concentrate on Mandarin and the Malay Language at school. No one suspects that I came from a Chinese Primary School background with my proper pronunciation".

Graduated with Honours in Mechanical engineering, Monash University, in May 2000. Currently, doing a Masters Degree in Business Systems.
Ho May Ling
"The affirmity I feel for the English Language started at age 5 when I was taught the mechanics of reading. Now I am pursuing a course in journalism because my love for reading has led me to a deep interest in writing".

B. A. University of Auckland 1997 (Major in English and Psychology). Currently pursuing a Graduate Diploma in Journalism at Auckland University of Technology.