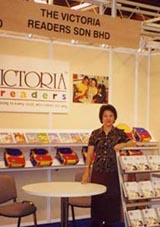 Founder
Ms Victoria Wong Tsae Ling, an English language teacher with more than thirty-five years of teaching experience in both the Comprehensive Secondary School and Primary Levels, has developed a systematic approach to phonics in reading skills.
History
The programme, conceived in 1980 to teach a five-year-old Ho May Ling to read, has since benefited numerous children. In fact, the system has been so successful that children from English-speaking backgrounds could read with ease in less than 55 lessons! This system will greatly assist teachers and parents who wish to teach their children to read fluently.
Since the first TVR Centre opened in early 1996, there are now more than 40 centres throughout Malaysia and 10 centres in Jakarta, Indonesia. TVR has now extended to Shanghai, China and Tokyo, Japan as well.